Stuart shooting for a China comeback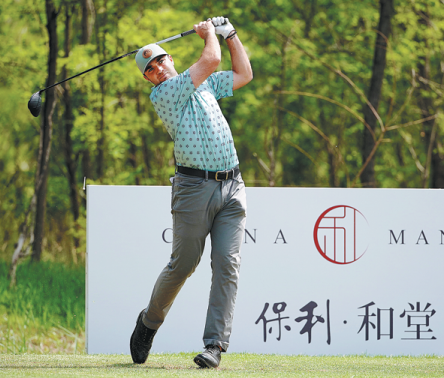 Stuart Macdonald hopes to double down for Canada while he's on the comeback trail.
The 24-year-old from Vancouver couldn't wait to tee off at this week's PGA Tour Series-China Qinhuangdao Championship as he looks to emulate compatriot Richard Jung, who won last week's Beijing Championship.
Macdonald had a solid start to his pro career after graduating from Purdue University in 2016.Last year he competed on the Web.com Tour, but he failed to retain his card and is now hoping for a good bounce-back season in China.
He tied for second at the tour's third global qualifying tournament to earn his full tour card and followed that with back to back top-25s in the season's opening two events. He then tied for 59th in Haikou before missing his first cut last week in Beijing.
"I didn't have my best stuff last week but my game still feels good. I'm trying to get better every day and hopefully this will be a good week," said Macdonald, who was inspired by watching a compatriot win on the tour.
"Richard is a good player. I know his name and it's always nice to see a fellow Canadian win. I hope I can continue that trend this week."
Earlier this year Macdonald was named to Golf Canada's Young Pro Squad, which provides financial aid to young players.
"Being a part of the Golf Canada program is really helpful. They help you financially and provide a lot of resources like coaches, psychologists and a physiotherapists. They also organize training camps, so it's a big help.
"This week specifically is very important for me because I want to get the ball rolling and try to get some momentum going into next week and the rest of the season."
Hale tops qualifier
Meanwhile, Australia's Corey Hale qualified for a PGA Tour Series-China event for the fourth time this season after winning Monday's Qinhuangdao qualifier with a 3-under 69.
He carded four birdies and one bogey at Qinhuangdao Poly Golf Club to remain perfect in open qualifiers this year and will play in his fifth consecutive tour event, starting on Thursday.
Hale played a full season on the Tour in 2018 but was unable to keep full status this year by the narrowest of margins. The top 50 players on the order of merit retained their cards and Hale finished 52nd.
Despite that disappointment, Hale has good memories of Qinhuangdao. At the 2018 tournament he recorded his lone top-10 finish on the tour after a closing 68 lifted him into a tie for 10th.
"I played well here last year and finished with a strong final round. I seem to like it here. It's a pretty nice place. The course is in great condition and I think the course just really suits me," he said.
Nine other players qualified for Qinhuangdao on Monday, including fellow Australian Hayden Webb, who earned the final spot when he birdied the first playoff hole to edge China's Gao Lei and amateur Wang Yanzhang.
New Zealand's Nick Voke, a current Web.com Tour member, won last year's tournament at 12-under, defeating England's Steve Lewton in a playoff.