Carriers help owners create art to reveal attitude toward life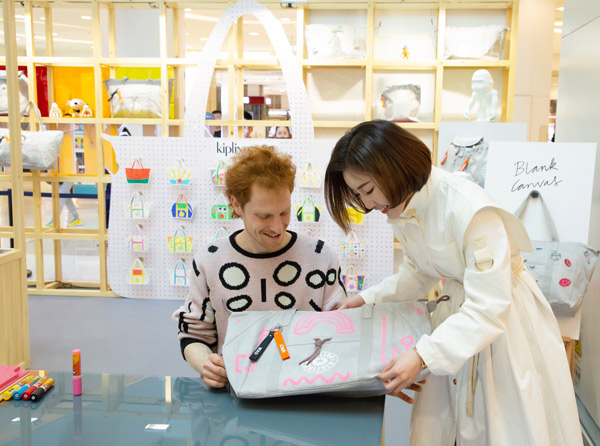 Two days after its worldwide premiere, the latest collection for Belgian bag brand, Kipling, made its China debut at APM Shopping Mall in Beijing on April 19.
Named Blank Canvas, the whole collection is designed with simplicity and minimalism in mind, mimicking an art canvas that leaves space and room for owners to create their own signature bags.
Watercolor pens and a set of stencil shapes come in a neat pouch free of charge with each bag.
At the launch event, artist Tobias Gutmann from Zurich was invited to fill the "canvas" with drawings.
Gutmann is known for his Face-O-Mat performances, using graphic elements and patterns to depict people's faces, drawing abstract interpretations of what he sees in faces, dubbed the "hand-drawn selfie".
Before he started to draw on the first bag for Zhou Xiaochen, a local fashion blogger, Gutmann asked three questions about her favorite season, weather and color.
In four minutes, he decorated the bag in light gray with a pink rainbow and a wavy line.