Meet the training guru keeping China on track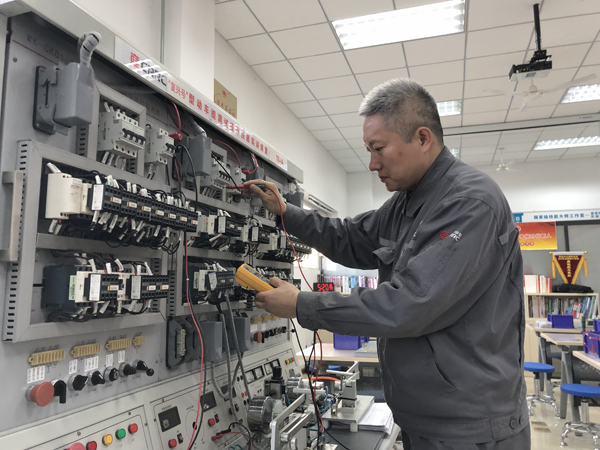 "It's really awesome to be a worker here," says Luo Zhaoqiang, from CRRC Changchun Railway Vehicles Co, a high-speed train manufacturer based in Northeast China's Jilin province.
The 47-year-old has worked for the company for 29 years, testing high-speed trains for eight of them, which makes him a well-known expert in the field. When talking about his work as a so-called "high-speed train doctor", his tone changes, lifting his voice.
"Testing is the very last step before the trains roll out. We endow the cars with life, making sure they leave the factory in good condition."
Earlier this year, he won the second prize in the National Scientific and Technological Progress Awards, the first time a high-speed train worker has been given this honor. His project focused on building a simulation test environment for high-speed trains. By using simulation equipment instead of real trains, training costs and risks are reduced, while testing efficiency demonstrates a 20 percent increase.
The technology has been applied to railway companies and over 20 vocational colleges domestically, as well as to companies in the United States. More than 20,000 students and workers have been educated successfully, with training periods shortened from three years to just six months. Luo's project fills a gap in high-speed train testing technology globally, and has contributed significantly to the industry in China.
"Now we are leading the way in the global high-speed rail industry, so innovation is the key that enables us to go further," Luo says.
Back in 1990, Luo's career as a young electrician had an inauspicious start, as he failed to solve an easy lathe problem. Having endured quite a bit of teasing for his mistake, he decided to figure out how all of the factory's electrical equipment worked, which took him 15 years.
In 1992, he spent a lot of his free time in an automobile factory, where programmable logic controllers-industrial computers adapted for the control of manufacturing processes-were adopted, to learn programming, which was the most advanced technology at that time. This experience paved the way for his high-speed train testing career years later.
CRRC Changchun began developing high-speed trains, which are more complicated than regular trains, in 2004. Luo seized the opportunity, devoting himself to testing the new trains. He started with over 4,000 design drawings and 6,000 logic diagrams, finally understanding all parts of the trains. After years of work, he went from a top electrician to an expert in bullet train testing, witnessing and participating in the rapid development of the high-speed train industry.
President Xi Jinping's visit to CRRC Changchun in 2015 inspired Luo and his colleagues. Xi said high-speed train manufacturing in China reflects the level of China's equipment manufacturing industry, and it is a beautiful calling card for the sector.
By the end of 2018, China had a high-speed railway network covering more than 29,000 kilometers, the world's longest. With top speeds of 350 kilometers per hour, it is estimated by one Chinese travel site that nearly 3,000 bullet trains now race across the country every day.
"As front-line workers, you need to work hard and innovate at the same time. Your job matters, and your innovation could make a big difference for the high-speed train industry," says Luo.
An innovation studio named after Luo Zhaoqiang was established in 2008, providing an opening platform not only for workers in his company, but also university students and employees from other railway manufacturing companies. More than 80 members, including 23 senior technicians, have joined the studio, with Chang Zhenchen, CRRC's chief scientist, as counselor. The studio, which Luo leads, aims at tackling problems in bullet train testing, inventing and innovating new techniques and technologies, as well as offering high-speed train testing courses.
Fu Xinyue, a testing technician, joined the studio because of her excellent English skills. She worked with Luo as an interpreter on a training project for American Springfield rail car factory workers.
"I didn't expect to use English after graduation, but now I can combine my English skills with work. It has become one of my advantages," says Fu.
"CRRC aims to become a respectable global company-so does my studio," says Luo.
Luo Zhaoqiang's Working Methods, the first book collectively written by Chinese high-speed train workers, has been released in April.
"The book is named after me, but it is a collection of general wisdom of high-speed train workers in China. It will be a guide for cultivating talent in this sector," Luo says.
Luo and his colleagues are now working on the Beijing-Zhangjiakou high-speed project, which involves the world's first automatically driven trains running at speeds of up to 350 kilometers per hour-making sure the trains for the 2022 Winter Olympics, to be held in Beijing and nearby Hebei province, run successfully.
"The country attaches great importance to the development of the high-speed railway industry, and our company encourages innovation. These are incredible opportunities. I'm merely lucky to be part of a great era," says Luo.
tangxiaomin@chinadaily.com.cn
`